The offer concerns a container for the transport or storage of liquids or granulates with several chambers insulated from each other.
Background/Setting
Conventional single-chamber containers have some disadvantages depending on the area of application, e.g. with regard to freshness protection, ecology or process and consumption efficiency. The lack of partitioning in single-chamber systems promotes unhygienic consumption of beverages, for example, and leads to an impairment of the health of consumers. This type of container is disposed of faster in the environment than, for example, multi-chamber systems.
In addition, when handling liquids or granulates, there is a need for solutions that combine packaging units of the same or different types in containers. Examples include beverages, multi-component varnish, pharmaceuticals and foods. Up to now, such containers have been formed by additional outer packaging or multi-chamber containers are used, which are difficult to produce.
Consumers have a greater need for smaller packaging units that can help them to consume efficiently and the same time to protect their environment.
Also for process containers, substances, e.g. liquids, are to be combined in units. In the case of the multi-chamber containers provided for this purpose, in addition to the space required, the (thermal) insulation of the chambers is of great importance.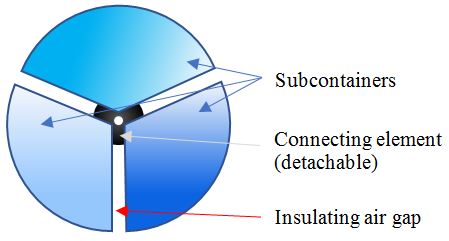 Multi-chamber container with three part containers and insulation air gap (top view)
 Solution
With the new multi-chamber container, liquids or granulates can be combined in a compact, easily producible and manageable container.
With the central connecting element it is possible to combine a few or a large number of partial containers in a compact unit and a uniform design.
Due to air gap in the construction, the subcontainers are thermally insulated from each other. The air gaps also provide the function of a heat exchanger, e.g. to dissipate heat from the containers or to introduce it specifically.
The construction of the partial containers is identical and, due to their simple geometry, they can be easily produced from a variety of materials and easy to fill. They can either be locked individually or in their entirety using a common lock.
With regard to container geometry, connecting element and closure, numerous variants are available for individual customer requirements. 
Advantages
The container is simple and material-saving and can be produced using common production processes.

Liquids or granulates are combined in compact, space saving units that are easy to handle.

The container enables smaller, hygienic packaging units with optimum material savings and supports sustainable and ecological action.

The thermal insulation allows the storage of materials with diufferent temperature ranges. In addition, the design allows faster cooling or heating of the container from the outside.

Reduces the number of discarded PET container in nature by 2/3 when using a three-chamber container or by ¾ when using a four-chamber container (in deposit-free contries)

The hybrid container property increases the use and flexibility of the container or the container application areas as well as applications
Fileds of application
Food industry,

beverage industry,

pharceutical industry,

cosmetics industry,

petrochemicals,

process industry and more.
Bid
We offer user and suppliers of containers usage rights and development services for adapting the multi-chamber container to individual requirements
Patent' situation:

DE 102017006857

International PCT/EP2018/065119  

E-Mail:

This email address is being protected from spambots. You need JavaScript enabled to view it.

Stade developpment:

Early Prototype

Telephon:

+49 53138942990 

+49 15732937916

Manager

Celestin Fayet

Bleibtreuweg 1,

38106 Braunschweig