EFFIBOTTLE

® 

Multi-Chamber Innovation - Sustainable Choices for Enhanced Business Performance
The packaging industry is strategically crucial in Western countries as it serves as the foundation for numerous business models and the supply of essential packaged goods to people. However, amidst pressing environmental concerns such as water scarcity, unpredictable seasons, and the continuous increase in packaging waste and CO₂ emissions, the entire packaging sector is facing heightened scrutiny from legislators and environmental advocates. Already, the EU and Germany have implemented initial regulatory measures.
The pivotal question is how critical these legal requirements can become for businesses in the near future if no action is taken today. To address this, we have developed our multi-chamber technology with a focus on flexibility and adaptability across various industries and pain points. This unique versatility not only eliminates internal and external process uncertainties but also ensures the sustainability of your products. Moreover, it empowers you to respond more flexibly and efficiently to the needs of your end customers. The key differentiating factor of our technology lies in its compact design with at least two separate chambers within a single container. Each chamber behaves independently in terms of physics and thermal properties, resulting in numerous advantages across diverse sectors such as medicine and beverage industries.
.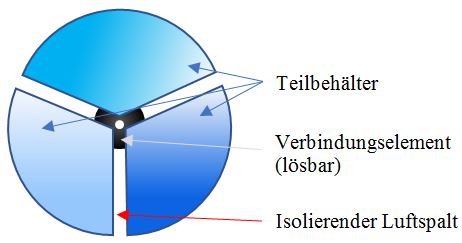 Illustration: Cross-sectional view of a three-chamber tank
For instance, utilizing our multi-chamber containers for food portioning can eliminate the need for additional packaging, reducing the number of overall packages, minimizing food waste, and streamlining industrial processes. As a result, this has a positive impact on the environment by reducing the CO₂ footprint, enhancing customer satisfaction, and boosting your company's profitability and overall viability.
We firmly believe that by leveraging the power of our innovative multi-chamber technology, businesses can proactively address the evolving environmental challenges while unlocking new opportunities for growth and sustainability. Embrace the future of packaging with FAYCE® and join us in creating a positive impact on our planet and securing a prosperous future.

Patent no.: EP 3655339
Our multi-chamber invention has been patented in 17 European countries since 12 June 2023. Therefore, we claim our technology in, among others :
France
Germany
Italy
Denmark
Finland and other countries.
A feasibility study has already been successfully carried out in cooperation with a research institute.
Contact us for a technology presentation and analysis of the economic suitability of multi-chamber technology for your business model.
This email address is being protected from spambots. You need JavaScript enabled to view it.