Multi-chamber innovation for improved economic outcomes based on environmental decisions
The packaging industry is one of the most strategically important industries in Western countries, as it forms the basis for many business models and the supply of essential packaged products to people. Due to current environmental issues such as water scarcity, unpredictable seasons and the steady increase in packaging waste and CO₂ emissions, the entire packaging industry is coming under increased scrutiny from legislators and environmentalists. In the EU and Germany, the first legal regulations have already been enacted. 
The crucial question is how critical these legal requirements may be for companies in the future if nothing is done today. That's why we designed this multi-chamber technology to be flexible and adaptable to many industries and other industrial challenges. In addition, this flexibility allows you to eliminate internal and external process uncertainties and ensure the sustainability of your products. Most importantly, this flexibility helps you to meet the needs of your end customers more effectively.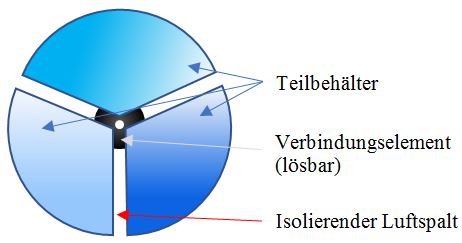 Illustration: Cross-sectional view of a three-chamber tank
The unique selling point of our technology is the compact design with at least two partial chambers for one and the same container. Each partial container behaves physically and thermally independently, resulting in many advantages for different industries, e.g. medicine or the beverage industry.
Portioning food in a multi-chamber container, for example, can help eliminate the need for outer packaging, reducing packaging waste, food waste and speeding up industrial processes. The result is a positive impact on the environment (CO₂ footprint), improved customer satisfaction and an increase in the company's contribution margin and profitability.

Patent and development status
Thanks in part to the German Federal Government, our multi-chamber invention has been registered for a patent in Germany and Europe. In addition, we have already successfully obtained a utility model in Germany. A feasibility study has already been successfully carried out in cooperation with a research institute.
Contact us for a technology presentation and analysis of the economic suitability of multi-chamber technology for your business model.
This email address is being protected from spambots. You need JavaScript enabled to view it.